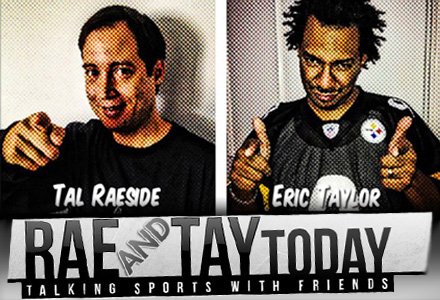 Rae and Tay are talking sports with friends.  The show consists of creative segments, elaborate banter, passionate debating, listener call-ins and interviews with current and former athletes, coaches, journalists, and entertainers.  The topics we cover include NFL, NBA, MLB, NCAA football and basketball as well as other major sports and events in Golf, Tennis, Boxing, NASCAR and NHL.
The show is clever and humorous with an urban edge.  We engage each other and invite our audience to sit on our Sports sofa.
Rae and Tay grew up together in NYC and have known each other for 30 years.  We have a unique friendship, deep love and knowledge of sports, and plenty of humor and opinions. Come join us on the ride!
Rae And Tay Today is a sports radio talk show for sports fans, enthusiasts and casual followers.
To get a better sense of our teams and allegiances, here are our favorites:
Rae's Teams
NFL – Dallas Cowboys & New York Jets
NBA – New York Knicks
MLB – New York Yankees
NHL – New York Islanders
NCAA Football – Oklahoma & Florida State
NCAA Men's Basketball – North Carolina & St. John's
Tennis – Bjorn Borg & Serena Williams
Golf – Fred Couples & Tiger Woods
Boxing – Muhammad Ali, Sugar Ray Leonard & Floyd Mayweather Jr.
NASCAR – Jeff Gordon
Soccer – Chelsea F.C.
Tay's Teams
NFL – Pittsburgh Steelers
NBA – New York Knicks
MLB – New York Yankees
NHL – New York Islanders
NCAA Football – Michigan, Alabama & Maryland
NCAA Men's Basketball – North Carolina, St. John's & Maryland
Tennis – John McEnroe & Serena Williams
Golf – Tiger Woods
Boxing – Muhammad Ali, Mike Tyson & Sugar Ray Leonard
NASCAR – Dale Earnhardt Sr. & Jimmy Johnson
Soccer – FC Barcelona